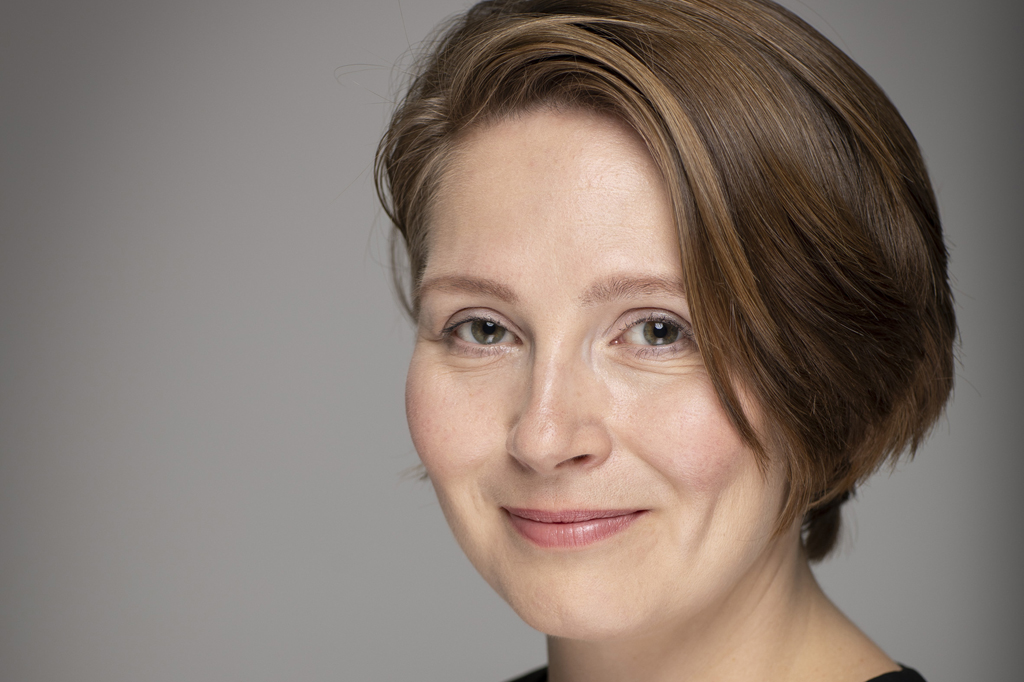 ---
---
The season 2012/13 started for Ann-Beth Solvang with a new production of "Il Trittico"/ Suor Angelica"/ La Zelatrice at the Theater an der Wien, where she sang "Les Contes d´Hoffmann"/ Voice of the mother last season and where she will return to in spring 2013 for a new production of "Beatrice et Benedict"/ Ursule.
In December 2012 she sings Flavia in Telemann´s "Flavius Bertaridus" at the Staatsoper Hamburg – after having had already a big success in the same production at the Innsbrucker Festwochen der Alten Musik.
At the beginning of the year 2013 she will do concerts with the Norwegian Wind Ensemble, afterwards she will give her debut at the Bastille in Paris as Grimgerde/ "Die Walküre" with Philippe Jordan.
The season ends with a "Ring"-cycle in Hamburg (Wellgunde/ Grimgerde) as well as a new production of "La clemenza di Tito"/ Annio at the Festwochen der Alten Musik in Innsbruck.
Ann-Beth Solvang was born in Norway and studied at the Rogaland Conservatory of Music in Stavanger and at The State Academy of Operatic Art in Oslo with Professor Anne Nyborg. She has received awards like the Shell prize and the Ruud Wallenberg Music Award.
After being a member of the International Opera Studio at the Staatsoper Hamburg from 2006-08, Ann-Beth Solvang became a member of the ensemble of this company from 2008-2011 and has interpreted parts like Hänsel/"Hänsel und Gretel", Cherubino/"Le Nozze di Figaro", Diana/"La Calisto", Diane/"Iphigénie en Tauride", Mercédès/"Carmen", Annina/"La Traviata", Bersi/"Andrea Chenier". In 2008 she sang Flosshilde in "Rheingold" and "Götterdämmerung" and Grimgerde/ "Walküre" in the new production of the "Der Ring des Nibelungen" with Simone Young and Claus Guth. In June 2011 she gave her role debut as Silla in the new production of "Palestrina" at this company.
Ann-Beth also sang Miss Betty in the new opera «Le Bal» by Oscar Strasnoy at its world premiere in Hamburg 2010 as well as at the Théâtre du Châtelet in Paris where she also was invited for Strasnoy´s "Le Bal" and "Six Songs for the unquiet Traveller" as well as "Das Lied von der Erde".
Guest engagements led her as Mercédès/"Carmen" to the Norwegian National Opera Oslo, as Ernesto/"Il mondo della luna" and Unulfo/"Rodelinda" to the Baseler Barockorchester, as Page/"Salome" to the Opera Vest in Bergen. In 2007 she sang Blumenmädchen/"Parsifal" at the Bayerische Staatsoper München (with Kent Nagano) and Grimgerde/"Walküre" at the Opera in Zürich. In summer 2010 she made her debut at the Innsbrucker Festwochen der Alten Musik as Argene in Pergolesi´s "L`Olimpiade" (with Alessandro De Marchi), the live-recording of this production is available at Sony Classical. In February 2011 she sang the same part in concert performances at the Theater an der Wien and in Torino.
In May 2012 she gave her debüt at the Opera House in Oslo with "Il Ritorno d´Ulisse in Patria.
Ann-Beth is one of three co-founders of the successful opera ensemble »Fjosopera» («Opera in the Barn«), which interprets the opera literature in the most amusing manner. In that setting she had a great opportunity to work with several opera scenes including parts like Cherubino, Hänsel, Sesto/"La Clemenza di Tito", Orlofsky/"Die Fledermaus", Rosina/"Il Barbiere di Siviglia", Komponist/"Ariande auf Naxos", Carmen and Dorabella/"Cosi fan tutte".
Following recordings with Ann Beth Solvang are available: «Das Rheingold» (OEHMS Classics, 2008), «Die Walküre» (OEHMS Classics, 2009), «Die Götterdämmerung» (OEHMS Classics, 2011), Pergolesi's «L`Olimpiade» (SONY CLASSICAL, 2011), «Songs by the Norwegian composer Eyvind Alnæs (1872-1932)» (TOCCATA CLASSICS, 2012), Flavius Bertaridus (DEUTSCHE HARMONIA MUNDI, 2012).